When you think about the Girona Pyrenees, perhaps snowy landscapes, charming villages and high mountains spring to mind. You wouldn't be wrong, but the Girona Pyrenees are so much more!
There is something for all tastes and for all seasons. But it always pays to go a little off the beaten track and discover authentic medieval gems and Romanesque treasures, such as the monastery of Sant Joan de les Abadesses, charming villages such as Santa Pau, Besalú or Meranges, tucked-away corners of well-being and harmony, springs hidden in the forests, or listen to the silence of the peaks that watch over this marvellous landscape.
The Girona Pyrenees are blessed with a unique climate and natural attributes. When added to the quality of their tourist services and facilities and the companies that provide them, they make an ideal natural setting for practising all sorts of open-air activities, with all the necessary resources for organising any kind of event.
If you like surprises, the Girona Pyrenees are a very special MICE destination, perfect for offering unforgettable experiences for medium and small groups.
Put yourself in the capable hands of Aventura Girona and let them prepare a hiking trail in Puigsacalm or Garrotxa, or an orienteering course tailored to your tastes and the needs of the group. If you prefer something more exhilarating, they can also take you canyoning in Sant Aniol, a beautiful spot with spectacular rock formations.
A hot-air balloon flight offers the unique sensation of exploring the landscape from another perspective. Vol de Coloms specialises in arranging experiences for groups and offers different options, from discovery flights over the volcanos of Garrotxa to participative activities in balloons, such as the Volcano Challenge.
To organise all the details of your meeting, you can count on Meet Cerdanya, an incoming travel agency with experience of working with corporate groups from various sectors, including pharmaceutical and automotive, and which knows the territory and the importance of respecting and caring for the environment.
Find the perfect venue
Regarding accommodation, in Cerdanya you will find charming hotels such as Hotel Villa Paulita, beside Puigcerdà lake, and Hotel Serras Torre del Remei, an Art Nouveau palace set in the stunning natural surroundings of the picturesque village of Bolvir.
Further south, in Garrotxa, you can stay at Hotel Vall de Bas or Hotel Riu Fluvià d'Olot.
In terms of venues for meetings and business events, the outstanding mountain setting is matched by the range of suitable spaces available. The city of Olot has various heritage buildings equipped to hold meetings, such as Can Trincheria, a stately 18th-century manor house, Claustre del Carme, one of the finest cloisters in Catalonia, and Edifici Hospici, in the city centre. Olot also offers the possibility of holding business events inside a volcano: Espai Cràter, a recently opened museum space located inside the Puig del Roser volcano.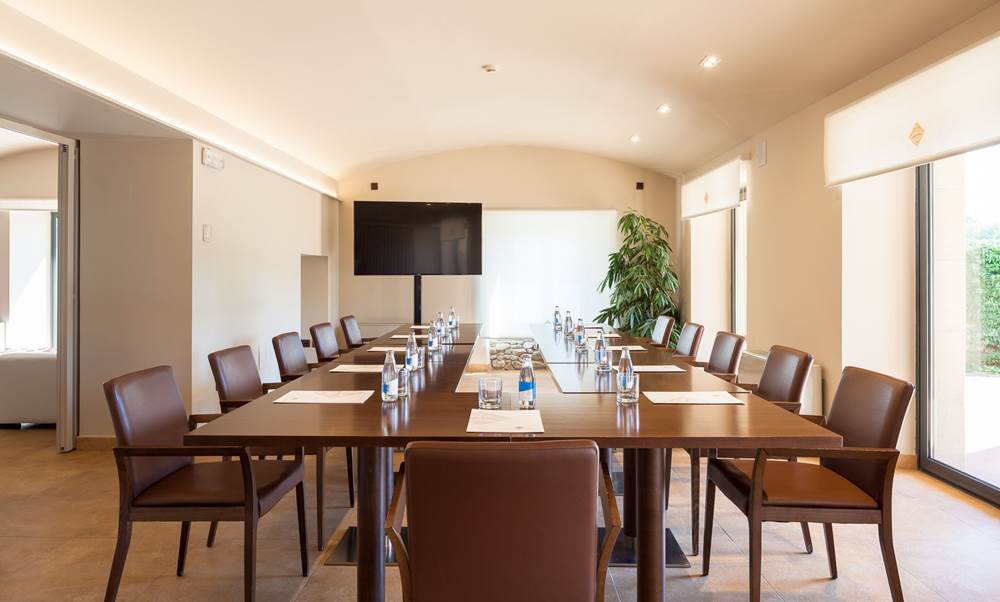 Gastronomy for events
Locally sourced produce, tradition and a boundless innovative spirit are the ingredients that characterise the cuisine of the Girona Pyrenees.
Enjoy a gala dinner in one of the county's oldest restaurants, La Deu, with a long tradition of organising banquets in its large spaces surrounded by nature. Also in Olot, you will find La Moixina restaurant, which offers Volcanic Cuisine, made using typical local products from Garrotxa. You can book the entire restaurant or choose the most suitable space for each type of group. And if you are looking for a Michelin-starred gastronomic experience, Les Cols restaurant has two for its excellent cuisine, plus a green star for its commitment to sustainability.
To sum up, the Girona Pyrenees' MICE options are a treasure waiting to be discovered, a totally complementary proposal to combine with the Costa Brava and city of Girona.